Open visa policy in Africa is not a security risk – said by experts
Passengers queue to board a RwandAir plane during the launch of Kigali-Cape Town route recently. Experts have called on African countries to emulate Rwanda by embracing a visa-free policy. / Sam Ngendahimana
Experts have said that many countries in Africa can gain more by opening up their borders to visitors. They advised the countries to emulate Rwanda's open visa policy, which has allowed issuing visas to all citizens of the world on arrival in the country since 2018. Since January 1, 2018, all visitors to Rwanda started to get a 30-day visa upon arrival without prior application.
For Dr. Pierre Claver Rutayisire, Rwanda's open visa policy is a good move, despite the fact that people may link the open visa with insecurity, especially in regard to international terrorism threat that is coming up now.
However, noting that Rwanda hasn't registered cases of international terrorism as a result of the open-visa policy, Rutayisire believes that the policy poses no problems.
New report hails Rwanda's visa-on-arrival policy
Passengers check in at Kigali International Airport. Rwanda's visa openness has promoted the country as a top conference destination.
At a time when a number of countries across the world are adopting protectionist policies such as strict visa regimes, Africa continues to open up borders. Rwanda is one of the most open countries on the continent.
Among fears that countries have advanced to tighten visa regimes include concerns on security, erosion of their respective cultures, as well as economic vulnerabilities.
However, multiple indexes show that Rwanda – which started the effort to relax visa restrictions on citizens of the world in 2013 – has not suffered from these challenges.
The ranking, released in Addis Ababa, comes weeks after a Gallup Poll ranked Rwanda the third most welcoming country for migrants worldwide, behind Iceland and New Zealand. The latest Visa Openness Index noted that Rwanda continues to move up the rankings. The authors of the report also observed that Rwanda has served as a model for countries seeking to open up their borders and liberalising movement citing the case of Ethiopia and Benin.
Overall, when compared to 2017, Africans do not need a visa to travel to 25 per cent of other African countries (up from 22 per cent); can get visas on arrival in 24 per cent of other African countries, and need visas to travel to 51% of other African countries.
Rwanda: State declares visa-free entry for citizens of Mozambique, 5 other countries
Holders of all types of passports of six countries, including China, Namibia, Mozambique, Saint Kitts and Nevis and the United Arab Emirates (UAE) can travel to Rwanda without visa fees arrangements, an official statement issued Thursday in Kigali announced.One of the resolutions from the Cabinet meeting Wednesday stressed that Rwanda has approved a visa exemption agreement to grant citizens of six countries with visa-free entry.
The new move comes after the existing visa regime that came into effect since January this year was allowing citizens of all countries to get visa upon arrival without prior application. In addition, foreign residents in Rwanda will be allowed to use resident identity cards for the purpose of entry, including using electronic gates with the automated passenger clearance system at Kigali International Airport.
Before the new measure being effective, only nationals of African countries and few others were getting visa upon arrival in the country.
Boosting diplomatic drive to Africa, Israel opens embassy in Rwanda New mission in Kigali is Israel's 11th embassy on the continent; 'Rwanda has proven to be a steady, true friend,' Foreign Ministry says
New entry visa formalities for Russian citizens travelling to Rwanda
As of January 1, 2018, the Republic of Rwanda will put the Russian Federation on the list of countries whose citizens can obtain a 30-day entry visa immediately upon arrival in that country at Rwandan border check-points handling international visitors. An immigration card is required to be filled out upon entry.
All visitors must have foreign passports valid for more than six months from the date of entry to the above-mentioned country. The price of a visa is $30. In order to extend their stay in Rwanda, visitors must apply to the local immigration and emigration service.
Visiting Rwanda Has Never Been Easier
With online visa applications, getting to Rwanda has never been easier! All African passport holders do not require visas prior to travel, as they get visas on arrival. Several other countries have bilateral visa exemptions. The whole visa application experience is easy to complete online by visiting www.migration.gov.rw. A response is guaranteed in less than 48 hours!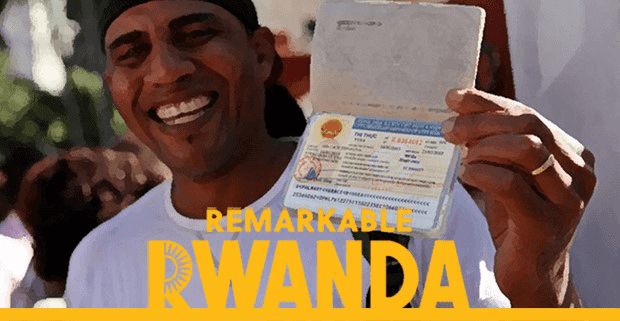 Visa requirements for foreign nationals of Hong Kong, Philippines, Mauritius, Singapore, and the Democratic Republic of Congo can visit Rwanda without a visa for a period of up to 90 days. Citizens of the East African Community regions of Burundi, Kenya, Tanzania, and Uganda are issued with a 6 months visitor pass (renewable) upon arrival with no fee.
Nationals of Australia, Germany, Israel, New Zealand, South Africa, Sweden, United Kingdom, and the United States of America are issued with an entry visa valid for a period up to 30 days for a visa upon arrival without prior application. Those who want to stay for longer than 30 days and/or enter more than once can exit and re-enter Rwanda to obtain another 30-day visa, or pre-apply for a tourist visa (T2), valid for 90 days with multiple entries.
Nationals of all African countries not listed above are issued with an entry visa upon arrival at any Rwandan entry point
The East Africa Tourist Visa allows entry to Rwanda, Uganda and Kenya. Applications should be made in advance with the country to be entered first. For Rwanda, applications can be made with the Directorate General of Immigration and Emigration or at any Rwandan Embassy or Diplomatic Mission, or online. Once an online application is approved, the visa can be collected upon arrival at Kigali International Airport.
NB: all travellers require a passport valid for 6 months after your arrival.
HOW CAN WE HELP?
NEED HELP 24/7
Wordwide phone support

How it works ? 2 min video
APPLY WITH CONFIDENCE
Safety, Fastest, Reliable, Save Time.
Secure Online Payment.
3 Working Days Guarantee.
No Hidden Fees and No Traps.
Money Back Guarantee if Declined.