Rwanda Visa For Ethiopian Citizens - Visa Fees Sep 2023
Rwanda's Directorate of Immigration and Emigration implemented an electronic visa program to simplify its visa scheme and reduce immigration lines. The Rwanda e-Visa, as it is informally known, is available to foreign visitors from over 100 countries, including Ethiopians. Ethiopians who want to visit Rwanda can use the country's e-Visa program by completing the online application form. The entire process is completed from the comfort of one's own home, eliminating the need for an in-person appointment at the embassy or months of waiting for approval.
In this article, Ethiopian travelers can find all the necessary information about the Rwanda e-visa for Ethiopians.
1. Rwanda e-visa for Ethiopians:
According to Rwanda's visa policy, the majority of foreign visitors require some form of travel authorization, such as an electronic visa, a regular visa in order to enter the country. Ethiopian citizens are covered by this policy.
The good news is that Ethiopians can obtain a Rwanda electronic visa. The application process for a Rwanda e-Visa is simple: Travelers must simply complete an online application, answer a few questions, and pay a processing fee.
To save time and have a more seamless immigration process, Ethiopian travelers should apply for their Rwanda visa in advance using the online application form.
Ethiopians who want to visit Rwanda for reasons other than tourism should contact the Rwanda embassy in Ethiopia for more information.
2. Types of Rwanda e-Visa for Ethiopians:
Rwanda recently changed its tourism policy and officially permitted foreign tourists to enter the country, opening up a world of sights and destinations that many people could not visit previously.
According to Rwanda visa policy, Ethiopians planning a trip to the country for tourism purposes require an online travel visa to enter the country. This is known as the Rwandan electronic visa, abbreviated as e-Visa. The Rwanda e-Visa was created to make travel easier for visitors from certain countries, including Ethiopia.
The Rwanda e-Visa for Ethiopians comes with a multitude of benefits. There are four types of Rwanda e-visa that visitors from Ethiopia can choose from:
Rwanda e-Tourist Visa: This is a single entry visa, and Ethiopian visitors can stay in Rwanda for 30 days from the day they arrive here.
Rwanda conference visa: is valid for 03 months from the arrival date and allows a single entry to Rwanda. With this type of visa, applicants can stay in the country up to 30 days from their arrival date. This visa is available if Ethiopian visitors want to attend or speak at a conference, meeting, or seminar in Rwanda.
Rwanda transit visa: Passengers from Ethiopia transiting through Rwanda on their way to another country can request a Transit e-visa. The validity of this e-visa is 03 months from the arrival date with a single entry. Travelers from Ethiopia can have a 3-day layover in Rwanda from the entry date.
East Africa Visa: You are also eligible for a Rwanda East Africa visa as an Ethiopian citizen. The document allows applicants to travel not only to Rwanda but also to Kenya and Uganda. The Rwanda East Africa visa is valid for 03 months after arrival, and the staying time at your destination is up to 90 days from the arrival date.
3. Rwanda Visa Requirements For Ethiopian Citizens
Obtaining a Rwanda visa for Ethiopians is quick and simple. The applicant must complete an online application form and pay the application fee.
Before doing this, the applicant must ensure that they meet the Rwanda visa requirements for Ethiopians, including the following:
Passport – make sure it is valid for at least 06 months after your arrival in Rwanda and has at least two blank pages for verification stamps.
Digital copies of Ethiopia passport's biographical pages.
Your recent photo – Your face must be clear against a white background.
Current Email address – You will receive your Rwanda e-visa in PDF format via email.
Applicants from Ethiopia must also include information about their intended trip, such as travel dates, flight information, and where they'll be staying.
Travelers from Ethiopia who have a passport that will expire in less than 6 months from their arrival date must renew it before completing the application process. You should also keep in mind that the Rwanda e-Visa is a one-of-a-kind online visa that cannot be transferred to another travel document. This is especially important for Ethiopians who have dual citizenship or who have to replace or renew their passport after applying for the e-Visa.
When approved, the Rwanda e-Visa is electronically linked to the traveler's passport and emailed to the traveler. The Rwanda e-visa for Ethiopians must be printed in order to be presented to Rwandan border officials for confirmation.
When arriving at a Rwanda airport, Ethiopian travelers must present the same passport they used to apply for the Rwanda e-Visa online.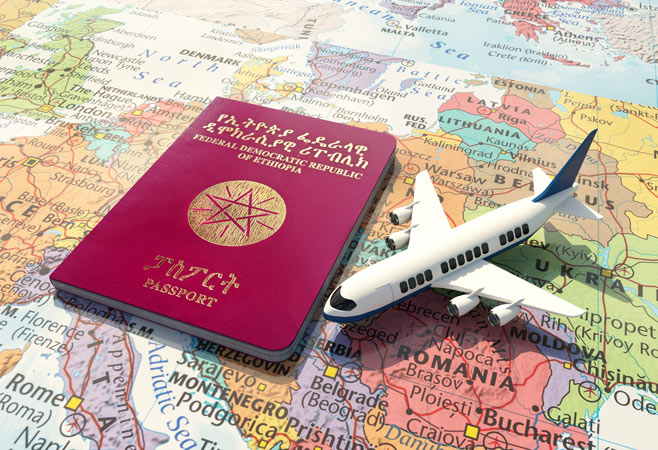 4. How to apply for a Rwanda visa online from Ethiopia:
The application process for Ethiopians traveling to Rwanda is simple and can be completed from the applicant's own home. Ethiopian nationals only need an internet connection, a valid passport, and a method of payment to apply for a Rwanda e-Visa.
Step 1: You will choose what type of e-visa you want to apply for as well as the processing time. You also need to add some visa details and personal information in the form, including:

Full name
Birthdate
Nationality
Gender
The number on a passport
The arrival and departure date

Step 2: In this step, Ethiopian applicants will complete the visa application by making payments. You may use two payment methods including electronic payment (Visa, Mastercard, American Express, or PayPal) or wire transfer (HSBC transaction) to pay for your Rwanda e-visa charges.
Step 3: You will receive the confirmation of your visa application via email. Remember to check your email frequently to update your e-visa status and the time you can obtain your e-visa.
You can submit your application once all of these steps have been completed.
The Rwandan government reviews all requests, and Ethiopian applicants will receive approved e-Visas via email in a maximum of three days. It is recommended that Ethiopian visitors print a copy and keep it with their travel documents before departing in Rwanda.
5. The frequently asked questions about Rwanda visas for Ethiopian citizens
Can Ethiopian citizens travel to Rwanda?
YES, Ethiopian citizens can go to Rwanda without a doubt. They are free to enter Rwanda whenever they wish as long as their visa is still in effect. Rwanda attracts more tourists from across the world to come here to experience the beauty of this country because it is the most hygienic country in Africa. This little country attracts travelers who enjoy exploration since it is the meeting place of indigenous tribes with various cultural differences, strictly preserved nature, and a solid, stable governmental foundation.
Since June 2020, Rwanda has allowed Ethiopian citizens to travel once again after the Covid-19 pandemic had put restrictions in place. It means that Ethiopian citizens who obtain an e-visa can freely enter Rwanda for purposes of travel, business, or transit.
Ethiopian citizens must first collect the required documentation in order to comply with the e-visa requirements before submitting their application. The following requirements must be followed in order for Ethiopian citizens to get an e-visa as quickly as possible:
A passport with at least two blank pages and a 6-month validity period after the date of acceptance.
A scanned copy of the digital passport biographical page.
Colored digital photos in any format.
A working email account is required to receive an electronic visa.
Do Ethiopian citizens need visas for Rwanda?
If residents of Ethiopia are wondering whether they require a visa for Rwanda, the answer is YES. More than 100 countries can now apply for a Rwanda e-visa online and get one in a matter of days via a digital system the Rwandan government launched in 2018. Ethiopia is one of the countries that is eligible to receive an e-visa via the online method. As a result, Ethiopian citizens cannot enter Rwanda without a current visa.
In the past, Ethiopian citizens had to make an appointment for an in-person interview with embassies or consulates and spend a considerable amount of time waiting in line. Finding a country with the Rwanda Embassy in it that is closest to them comes at a price. However, there is one Rwanda Embassy right in the Ethiopian nation. There are no longer any concerns because all passengers from Ethiopia can quickly and easily apply for an electronic visa at Rwanda Immigration Services.
Ethiopian citizens will receive the outcome of their e-visa application by email. Before traveling to the airport, don't forget to print it out. Only paper documents will be accepted at the border, while digital ones would be rejected. There are now only two airports in Rwanda—Kamembe and Kigali International Airport—that accept e-visas. One out of every two airports accepts Ethiopian travelers using e-visas to enter Rwanda.
How do I get a visa for Rwanda from Ethiopia?
For people who enjoy travel and exploration, Rwanda is a fantastic destination. The country is blessed with lovely vegetation and a wide variety of species. With the launch of the Rwanda e-visa online system in 2018, over 200 countries, including Ethiopia, were eligible to apply for an e-visa. With the use of this system, citizens of Ethiopia can go to Rwanda for leisure, business, conferences, or transit.
The online platform for Rwanda Immigration Services offers the simplest, most efficient procedure so that Ethiopia can provide the greatest experiences ever. As a result, tourists can obtain their own e-visa using technological devices and a reliable internet connection in just a few minutes. Following the application, the e-visa will be processed and delivered to your email account. Please regularly check your email to obtain updates and e-visas.
By 3 simple steps below, Ethiopia citizens can own their Rwanda e-visa easily:
Step 1: Complete the application by providing your name and passport information.
Step 2: Select a payment option, verify your information to be sure it is correct, and then submit your payment.
Step 3: Get ready to be stamped at the border control as soon as you receive your Rwanda e-visa via the email you provided to us.
How much is a visa from Ethiopia to Rwanda?
The Rwanda e-visa fees are divided into two category fees: the government fee and the service fee. The government fee is the sum of money that, after you submit an e-visa application, cannot be adjusted. The Rwandan government receives this payment in order to process the e-visa. Additionally, Ethiopian visitors pay a service charge to Rwanda Immigration Services. If you have issues with the progress, we will help Ethiopia. Depending on the processing time frame that travelers select, the service cost can vary. We provide three options to residents of Ethiopian:
Normal: For travelers from Ethiopia who need an e-visa within 3 business days.
Urgent:  For Ethiopian citizens who need an e-visa within 02 business days.
Super Urgent: For Ethiopian citizens who need an e-visa in less than 24 hours of business.
Only electronic payment options using a credit or debit card, including Visa, Master Card, Ethiopia Express, or Paypal, are accepted at Rwanda Immigration Services. Ethiopia will have their application rejected if they don't finish paying. We advise Ethiopian citizens to purchase travel and Covid-19 insurance to safeguard their trip from anything negative while they are overseas.
How long can an Ethiopian citizen stay in Rwanda?
The type of Ethiopian travelers that register for an e-visa determines how long they will remain in Rwanda. Ethiopian citizens are permitted to travel, visit friends and family, attend conferences, and transit in Rwanda. The four primary e-visa types that satisfy Ethiopian tourists' needs are as follows:
Tourist e-visa: With this visa, Ethiopian residents can visit Rwanda for 30 days after it is issued. With this type of visa, visitors can visit their loved ones and take in Rwanda's stunning natural beauty.
Conference e-visa: Within 30 days after their arrival, Ethiopian citizens can apply for an electronic conference visa to attend foreign conferences and meetings.
Transit e-visa: As long as Rwanda is not the traveler's final destination, this form of visa permits Ethiopian citizens to stay in Rwanda for 3 days. However, you can travel there in 3 days and see the fascinating culture and delicious food.
East Africa e-visa: With this type of visa, Ethiopian people can make a single trip to Kenya, Rwanda, and Uganda. Travelers will no longer need to go through the process of applying three times for every country. This stay may last up to 90 days in total.
Besides, we also provide other service packages to help customers have a good trip to Rwanda such as Rwanda travel insurance, e-sim card in Rwanda, car pick-up services in Rwanda