Rwanda Visa Requirements For Ethiopian Citizens - Visa Fees
Rwanda's Directorate of Immigration and Emigration implemented an electronic visa program to simplify its visa scheme and reduce immigration lines. The Rwanda e-Visa, as it is informally known, is available to foreign visitors from over 100 countries, including Ethiopians. Ethiopians who want to visit Rwanda can use the country's e-Visa program by completing the online application form. The entire process is completed from the comfort of one's own home, eliminating the need for an in-person appointment at the embassy or months of waiting for approval.
In this article, Ethiopian travelers can find all the necessary information about the Rwanda e-visa for Ethiopians.
1. Rwanda e-visa for Ethiopians:
According to Rwanda's visa policy, the majority of foreign visitors require some form of travel authorization, such as an electronic visa, a regular visa in order to enter the country. Ethiopian citizens are covered by this policy.
The good news is that Ethiopians can obtain a Rwanda electronic visa. The application process for a Rwanda e-Visa is simple: Travelers must simply complete an online application, answer a few questions, and pay a processing fee.
To save time and have a more seamless immigration process, Ethiopian travelers should apply for their Rwanda visa in advance using the online application form.
Ethiopians who want to visit Rwanda for reasons other than tourism should contact the Rwanda embassy in Ethiopia for more information.
2. Types of Rwanda e-Visa for Ethiopians:
Rwanda recently changed its tourism policy and officially permitted foreign tourists to enter the country, opening up a world of sights and destinations that many people could not visit previously.
According to Rwanda visa policy, Ethiopians planning a trip to the country for tourism purposes require an online travel visa to enter the country. This is known as the Rwandan electronic visa, abbreviated as e-Visa. The Rwanda e-Visa was created to make travel easier for visitors from certain countries, including Ethiopia.
The Rwanda e-Visa for Ethiopians comes with a multitude of benefits. There are four types of Rwanda e-visa that visitors from Ethiopia can choose from:
Rwanda e-Tourist Visa: This is a single entry visa, and Ethiopian visitors can stay in Rwanda for 30 days from the day they arrive here.
Rwanda conference visa: is valid for 03 months from the arrival date and allows a single entry to Rwanda. With this type of visa, applicants can stay in the country up to 30 days from their arrival date. This visa is available if Ethiopian visitors want to attend or speak at a conference, meeting, or seminar in Rwanda.
Rwanda transit visa: Passengers from Ethiopia transiting through Rwanda on their way to another country can request a Transit e-visa. The validity of this e-visa is 03 months from the arrival date with a single entry. Travelers from Ethiopia can have a 3-day layover in Rwanda from the entry date.
East Africa Visa: You are also eligible for a Rwanda East Africa visa as an Ethiopian citizen. The document allows applicants to travel not only to Rwanda but also to Kenya and Uganda. The Rwanda East Africa visa is valid for 03 months after arrival, and the staying time at your destination is up to 90 days from the arrival date.
3. Rwanda Visa Requirements For Ethiopian Citizens
Obtaining a Rwanda visa for Ethiopians is quick and simple. The applicant must complete an online application form and pay the application fee.
Before doing this, the applicant must ensure that they meet the Rwanda visa requirements for Ethiopians, including the following:
Passport – make sure it is valid for at least 06 months after your arrival in Rwanda and has at least two blank pages for verification stamps.
Digital copies of Ethiopia passport's biographical pages.
Your recent photo – Your face must be clear against a white background.
Current Email address – You will receive your Rwanda e-visa in PDF format via email.
Applicants from Ethiopia must also include information about their intended trip, such as travel dates, flight information, and where they'll be staying.
Travelers from Ethiopia who have a passport that will expire in less than 6 months from their arrival date must renew it before completing the application process. You should also keep in mind that the Rwanda e-Visa is a one-of-a-kind online visa that cannot be transferred to another travel document. This is especially important for Ethiopians who have dual citizenship or who have to replace or renew their passport after applying for the e-Visa.
When approved, the Rwanda e-Visa is electronically linked to the traveler's passport and emailed to the traveler. The Rwanda e-visa for Ethiopians must be printed in order to be presented to Rwandan border officials for confirmation.
When arriving at a Rwanda airport, Ethiopian travelers must present the same passport they used to apply for the Rwanda e-Visa online.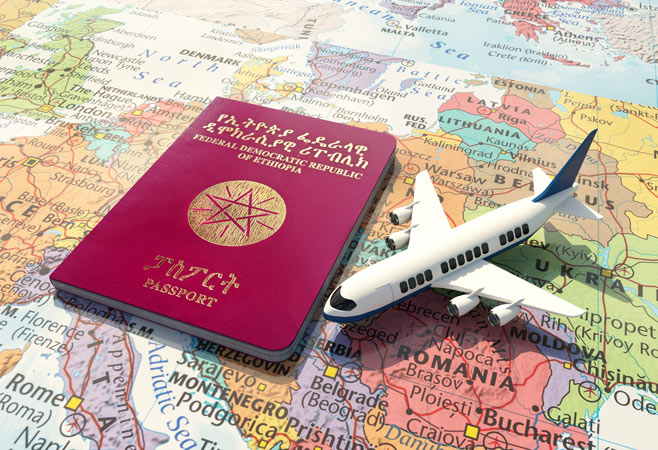 4. How to apply for a Rwanda visa online from Ethiopia:
The application process for Ethiopians traveling to Rwanda is simple and can be completed from the applicant's own home. Ethiopian nationals only need an internet connection, a valid passport, and a method of payment to apply for a Rwanda e-Visa.
Step 1: You will choose what type of e-visa you want to apply for as well as the processing time. You also need to add some visa details and personal information in the form, including:

Full name
Birthdate
Nationality
Gender
The number on a passport
The arrival and departure date

Step 2: In this step, Ethiopian applicants will complete the visa application by making payments. You may use two payment methods including electronic payment (Visa, Mastercard, American Express, or PayPal) or wire transfer (HSBC transaction) to pay for your Rwanda e-visa charges.
Step 3: You will receive the confirmation of your visa application via email. Remember to check your email frequently to update your e-visa status and the time you can obtain your e-visa.
You can submit your application once all of these steps have been completed.
The Rwandan government reviews all requests, and Ethiopian applicants will receive approved e-Visas via email in a maximum of three days. It is recommended that Ethiopian visitors print a copy and keep it with their travel documents before departing in Rwanda
Besides, we also provide other service packages to help customers have a good trip to Rwanda such as Rwanda travel insurance, e-sim card in Rwanda, car pick-up services in Rwanda