Check Rwanda visa requirements for Djiboutian citizens
Djiboutian citizens can apply for a tourist visa to Rwanda online. For Djiboutians who want to visit Rwanda, the e-Visa is the most convenient option.
The Rwanda e-Visa application is entirely online, making travel from Djiboutian to Rwanda easier. Djiboutians can apply online and will receive their approved visa via email.
In this article, travelers can find out more about Rwanda's e-Visa requirements for Djiboutians and how to apply for a visa online.
Rwanda's e-Visa for Djiboutians citizens
1. Rwanda e-visa for Djiboutian citizens:
All foreign visitors from Djibouti must obtain a valid visa to enter Rwanda. When traveling for shorter tourist and business trips, Djiboutian nationals can apply for the convenient Rwanda e-visa.
The electronic visa for Rwanda are available to citizens of more than 200 countries to enter this African country, including Djiboutian citizens.
The Rwanda e-visa for Djiboutian citizens is an electronic visa that allows for a fast and simple online application, without having to visit a Rwanda embassy or consulate.
You can complete the Rwanda e-Visa application form on a smartphone, laptop, or another electronic device. Djiboutians receive their approved Rwanda visa by email.
Djiboutian nationals can use an e-visa for trips of up to 30 days with one of the following purposes:
Tourism
Leisure
Family visits
Short courses
Business meetings, conferences, and seminars
Transit
To work in Rwanda, Djiboutian citizens will need to apply for a working visa or a working holiday visa at Rwanda embassy in Djibouti
Type of Rwanda e-visa:
Rwanda tourist e-visa: For many travelers, the Tourist e-Visa is the best option for a longer stay in Rwanda. With a Tourist e-Visa, you can relax, enjoy the food and culture, or visit friends and family in Rwanda. Use your Tourist e-Visa for a single entry within 30 days from the arrival date.
Rwanda transit e-visa: If you do not intend to stay in Rwanda for an extended period of time, the Transit e-Visa is an excellent choice. People can visit Rwanda for three days before their next flight with this e-Visa. Get the Transit e-Visa if you have a long layover.
Rwanda conference e-visa: It is valid for 3 months from the arrival date and allows a Single Entry to Rwanda. This electronic visa allows a visit to Rwanda if you want to attend or speak at a conference, meeting, or seminar.
East Africa e-visa: Looking for the whole shebang? The East African e-Visa is the right one for you. With this E-Visa, you will be able to visit Rwanda as well as Uganda and Kenya. You can visit Rwanda, Uganda and Kenya as many times as you want during your 90-day stay, so apply for an East African e-Visa here
2. Rwanda e-visa requirements for Djiboutian citizens:
To enter Rwanda as a Djiboutian, you simply need to obtain the Rwanda e-visa. Also, keep in mind that this document is only useful for a tourist or business visit; if you want to study or live in Rwanda long-term, you must contact your local Rwandan embassy.
You can apply for an e-visa through Rwanda immigration services for your convenience.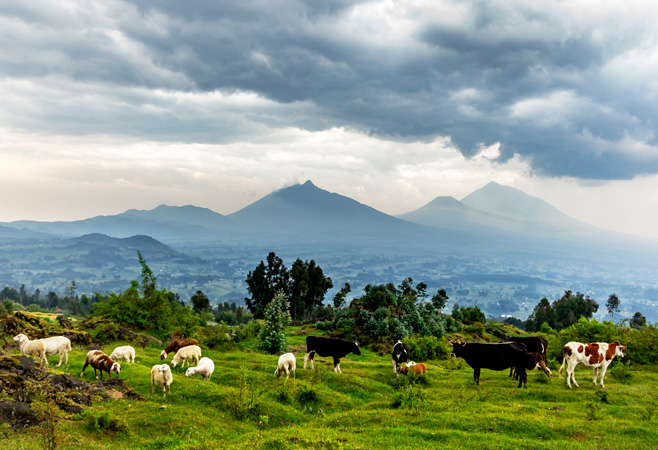 Rwanda e-visa requirements for Djiboutian citizens
An online application is far more convenient than visiting a Rwandan embassy, so you have a significant advantage there.
However, while the online application may be simpler, it does not eliminate the need for some documents. These items are not difficult to locate:
Djiboutian passport: valid for at least 6 months following the arrival date in Rwanda and has at least 2 blank page
A scan of the biographical page of the passport
Photo – Taken on a white background as recent as possible
E-mail address: You need to provide an email address that is frequently used to receive the Rwanda eVisa.
A recently taken digital photo – An applicant must submit a digital photo in any format. Within 6 months of applying for the visa, the photo must have a white background and be taken on a white background.
Djiboutian citizens applying for a tourist, family visit, or transit e-visa for Rwanda must also provide their travel itinerary.
Failure to meet one or more of the Rwanda e-visa requirements for Djiboutian citizens may result in a refusal of the visa.
3. How to get a visa for Rwanda from Djibouti:
In addition to providing information and supporting documents, the Djibouti applicants will need to complete the Rwanda electronic visa application in 10 to 15 minutes. The following information should be entered in the application form:
Type of visa, transportation method, port of arrival, and processing time
Name, date of birth, gender, and country of citizenship
Djibouti passport number.
Date of arrival and departure in Rwanda
Read more: How to apply for a Rwanda visa online
How long does it take to get a Rwanda e visa for Djiboutian citizens?
After submitting the application form, Djiboutian applicants will receive an email confirmation.
Most Djiboutian applicants will receive the Rwanda e-visa within 24 hours to 72 hours based on the processing time they choose in the application form. Additional delays may occur if there is an increase in demand and if there are errors or discrepancies on the application form.
Candidates can check the status of their request at any time by the "Check Status" tab on our website clicking on the link in the confirmation email.
4. Rwanda visa fees for Djiboutian citizens:
Rwanda visa fees for Djiboutian citizens
With Rwanda immigration services, the fees you will pay for your Rwanda e-visa depend on the processing time and type of visa.
There are two (2) kinds of Rwanda e-Visa Fees that have to be paid in order to apply online for a Rwanda Visa. These fees are called Service Fees and Government Fees.
Rwanda immigration services have 3 excellent visa services for Djiboutian citizens, and you can select the one that suits you best:
Normal: Most applicants choose standard because it is the least expensive option. Your visa application will be ready within 3 days
Urgent: The cost is slightly higher than the previous option, but you will receive your Rwanda visa in less time. Your visa will be ready within 2 days
Super urgent: This is the quickest option available from the Rwanda immigration service. Within 24 hours, your e-visa will be processed.
In addition, we recommend that you should buy a Covid travel insurance